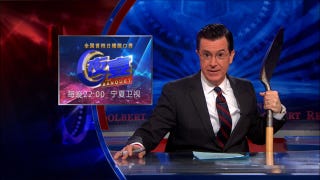 A Chinese show called The Banquet is being accused of ripping off The Colbert Report's opening. For good reason!
As The Atlantic pointed out late last week, the show is called The Banquet and broadcasts on Ningxia Satellite TV, so it's more of a local production. However, The Colbert Report does have a sizeable following in China, making the program's decision to borrow so liberally all the more puzzling—and, from the sound of it, frustrating for Chinese Colbert fans.
Courtesy of Sina Weibo, here is a side-by-side comparison from a few days back. Note that even Colbert's theme song was apparently reproduced in The Banquet's opening. That, and remember it was Chinese net users who first pointed out this rip-off:
"[The Colbert Report] can go ahead and sue us!" a broadcaster spokesperson told The Atlantic."We haven't received any complaints from their lawyers." The show, however, seems to have hastily changed their opening, with some handheld-filmed footage.
"Folks, this is nothing more than wholesale theft... and I love it," Colbert said recently (noted by Nanfang Insider earlier today).
One thing The Banquet did not copy was The Colbert Report's smart, funny look at politics. Instead, as The Atlantic points out, it's filled with tired, corny jokes about, for example, family life.
This isn't the first time Chinese television has borrowed opening sequences from other shows. But, will it be the last?
IN CASE YOU MISSED IT: CHINESE COPYCATS TARGET THE COLBERT REPORT [Nanfang Insider]
When Chinese TV Rips Off The Colbert Report [The Atlantic]
To contact the author of this post, write to bashcraftATkotaku.com or find him on Twitter @Brian_Ashcraft.
Kotaku East is your slice of Asian internet culture, bringing you the latest talking points from Japan, Korea, China and beyond. Tune in every morning from 4am to 8am.