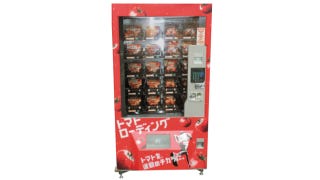 From bras to batteries, Japan is no stranger to unusual vending machines. But its latest peculiar vending machine might make sense. Kinda!
Japanese food company Kagome, which specializes in tomato-based eats, recently installed a vending machine at a runner's facility in Tokyo. According to The Asahi Shimbun, Kagome hopes the vending machine will highlight the fatigue-reducing, high-nutritional value of tomatoes.
"I recommend runners have one after jogging to supply nutrition," a Kagome official is quoted as saying.