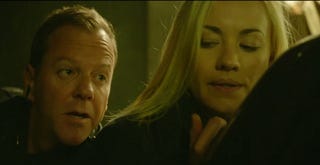 JACK BAUER HAS FINALLY MET HIS MATCH..
Meet Kate Morgan, a steely CIA agent who has almost immediately elevated herself to the role of co-star on .24: Live Another Day, bringing the type of raw energy and all-around skills that her colleagues seriously lack. She's smart and ruthless—"She's good," Jack confesses to Chloe at one point—and perhaps most importantly, she's the only character with enough brains to LISTEN TO EVERYTHING JACK BAUER SAYS.
In last night's episode—2pm-3pm—Morgan finally declares her devotion to All Things Bauer by Not Listening To Authority (for the 14th time in four hours) and sneaking through an air vent Deus Ex-style to reach Jack and convince him to let her help. By the end of the hour, she's a co-conspirator. She's all-in with Bauer, which, as we all know after eight seasons of Jack and his antics, is typically good news for The World and bad news for a person's health, sanity, and immediate family members.
By the end of this day, it's likely that A) Kate will be dead; B) Kate will be a mole; C) Kate will replace Jack Bauer, who has died saving the world, and she will carry on his legacy torturing terrorists and shooting strangers in the knee.
Or. OR. Maybe Kate and Jack will team up, make out, and travel the globe, spending the rest of their lives fighting terrorists and government agencies that Just Don't Get It. If I had a magic genie lamp, my first wish would be for this show to happen. I really need a 40-minute weekly show of Jack and Kate simultaneously telling people that they're out of time.
Still. Kate might be the breakout star, but 24 is still Jack's show, and the bulk of this episode takes place inside Britain's U.S. embassy, where Mr. Bauer needs to upload Important Information to Chloe so he can convince everyone the president's being targeted before it's TOO LATE. In order to do this, Jack puts on a jacket that says "Federal Agent" and then shoots two marines and takes three hostages, who he somehow expects to believe his promises that they won't get hurt even though he's just invaded the U.S. embassy and shot two marines.