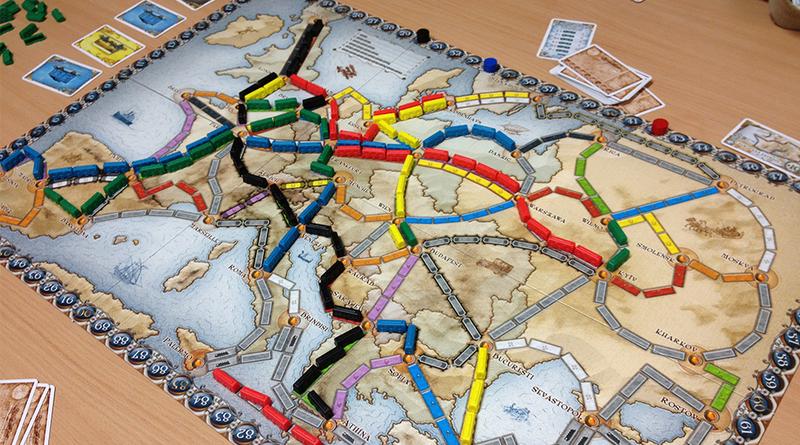 "Part of our brand," explains the sonorous French voice on the phone, "is coming from the fact we do very few things. Porsche is the most successful car company in the world from the business standpoint, but they do very few models... we take the same approach in the board game business."
Yes, board games. Joint US-French publisher Days of Wonder are keen to tell me of a dramatic development in the sleepy burg of board games. They say their flagship title, family train game Ticket to Ride, has overtaken Settlers of Catan in sales. If they're right, that's huge.
Catan is a quaint German game where players compete to develop a hopelessly cramped island. Fretting and plotting over hands of resource cards, players compete to snatch territory from one another, negotiate, and thread together their holdings to lay claim to the hotly contested Longest Road. It's basically Sim City in an elevator. It's also irreducibly pleasant, its flimsy rules equal parts simple, rewarding and clever.
More importantly, in board games, quaint sells. Catan is the bashful possessor of more than one hundred sequels, expansions, spin-offs and tie-ins. It also had a key role in the reinvigoration of the US board game scene in the mid-90s, when Americans encountered such staggering revelations as board games with colour manuals and themes that didn't include (1) guns or (2) laser guns.
---
Catan is the bashful possessor of more than one hundred sequels, expansions, spin-offs and tie-ins.
---
Perhaps what's most remarkable about Days of Wonder's Ticket to Ride is how similarly unremarkable it is. Faced with a map of a continent and bare train tracks, players are dealt route cards they have to try and complete. On your turn, you can either draw more route cards, draw railway car cards, or play sets of railway car cards to complete routes on the board, often causing at least one of your friends to howl in terror / pain / fury because they needed that one.
Like Catan, it's a subtle blend of empire development and passive aggression, and pleasant without being daring. Talking to Days of Wonder, I wanted to discover what guided a company that could dethrone Catan. As it turned out from a quick chat with founder Eric Hautemont, the company's Porsche-like attitude of releasing a 0-1 games a year was just the start.
"From a brand standpoint, we sat down really early on and thought about what are the key things that would distinguish a Days of Wonder game. At the time — think back to 2001, 2002, board games were not that attractive. They were kind of thrown together, people were doing their own graphics, their friends were doing design... We wanted to really emphasize both the componentry in the game and also the illustrations.
"Our first big-box game, Mystery of the Abbey — one little thing that we added was this little bell, to call people to mass which happens after so many turns. That little bell, which probably cost six or seven cents, people raved about it. Because it wasn't necessary, you could have just said 'okay, everyone all go to Mass,' but it was that little added touch that helped move the storyline along."
Since then, it's become inarguable that Days of Wonder make the nicest physical objects. In an industry of plastic miniatures that arrive knock-kneed and wielding bent swords, of comedically useless box inlays, of tokens that literally blacken your hands, the competition might not be fierce, but Days of Wonder games still offer a tidy kind of luxury. Colourful art and a wealth of injection-moulded plastic, tucked tightly into a rigid inlay.