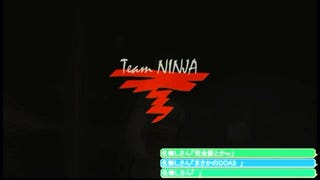 A new Dead or Alive 5 project is "coming soon" to the PS3 and the Xbox 360. Yosuke Hayashi, Team Ninja's leader, recently announced that the "newest work" (最新作) for Dead or Alive 5 was "currently in development" and showed a very brief trailer. It sounds like a stand-alone title, so it might be a revamped or tweaked…
Team Ninja is bringing super ninja Ryu Hayabusa to Nintendo's new console, Wii U, with Ninja Gaiden 3: Razor's Edge. Its the more unique version of Ninja Gaiden 3, thanks to the addition of (optional) touchscreen controls.
Dead or Alive: Dimensions for the Nintendo 3DS will feature a cameo from Metroid hunter Samus Aran, but she won't be jiggling alongside the rest of the DOA cast. Samus, sadly, won't be playable in the game.
Until 2008, the head ninja of Team Ninja (not pictured) was Dead or Alive creator Tomonobu Itagaki. Then he left and filed a lawsuit over unpaid wages. More Tecmo developers left, too. What's that like for the other ninjas?
The people behind Wii title Metroid: Other M provide an in-depth, behind the scenes look at the forthcoming adventures of Samus Aran in this 17-minute-long video that offers a rare glimpse into the inner workings of a Nintendo game.
Tecmo's redundant announcement of Ninja Gaiden Σ 2 was more than just a chance to talk about online co-op; it was Producer Yosuke Hayashi's chance to come out of his ex-boss's shadow.