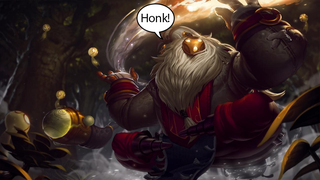 League of Legends' newly-minted "Bard" champion just dropped into the game by surprise yesterday. Players are extremely curious about this "wandering caretaker" and his potential in the game thanks to the big bearded guy's more...distinctive qualities. What makes him stand out, you ask? A few key things.
The Xbox Live Status page currently indicates some users having issues logging into Xbox Live on the Xbox One. A problem involving being unable to launch certain games has recently been resolved. No word on whether these current issues are related to the ones which brought the servers down on Christmas Day. Everything…
Have you ever had a problem installing the latest and greatest PC game and were forced to scour semi-helpful forum posts for hours looking for a solution? Andrew Tsai certainly has, and he created PCGamingWiki so no one else ever has to.

If Tsai, who goes by the handle Andytizer on the PCGamingWiki site (and is not…
While the $199 price tag on Microsoft's 4GB Xbox 360 slim model might seem attractive, Halo: Reach owners eager for a little online co-operative multiplayer campaign play are finding out the hard way that you get what you pay for.
The US-based support group, On-Line Gamers Anonymous has opened its first chapter in Canada. Brad Dorrance - founder member of the London, CA chapter - came to the group after his 12-hour a day habit contributed to the breakup of his marriage and lead to an attempted suicide. "I think people need to see how much…
According to the Command & Conquer customer support team, a "small number of [] manuals" suffered from an unfortunate misprint. Some owners of the Windows PC version are finding themselves with a CD key just 19 characters in length, exactly one shy of the required 20 characters required to activate the game. Oops!…
GTA IV has some problems. Some are pretty great, but most have resulted in freezes and lock-ups, which aren't great. And while a recent patch has fixed some of those problems, it hasn't fixed all of them, leaving a lot of GTA IV players still in the lurch. If that's you and you own a 60GB PS3, help may be on the way,…