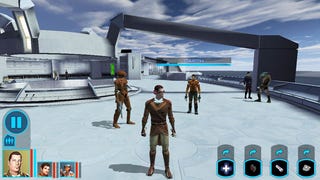 In May of this year, one of the greatest Star Wars stories ever told made the jump from PC and old consoles to the iPad. Today Star Wars: Knights of the Old Republic finally went universal, with a host of new features to welcome iPhone and iPod Touch players into the fold.
It's the 10th anniversary of one of the greatest Star Wars video games ever made, and BioWare has teamed up with Aspyr Media to bring Knights of the Old Republic to the iPad, a gift to the series' devoted fans. Well, a gift to the series' most devoted fans who also own an iPad — the rest of them may have just been…
BioWare's new Star Wars MMO covers a lot of ground when it comes the pre-history of Luke Skywalker's universe. But, even with all the gameplay and dialogue in The Old Republic, there' s still lots of stories to be told about the conflicts between Jedi, Sith, Mandalorians and The Republic of the old.
In today's edition of Speak-Up on Kotaku, commenter Arok_Lazarus wonders what music transports us back to the games we used to play.
Sonic, Star Wars, Free Realms and Starcraft comics, all sprung from video games, hit comics shops in North America today. Click each thumbnail for more information.