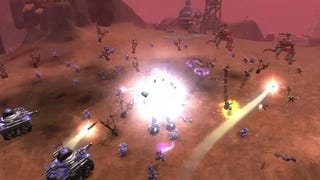 EA only has a week and a half left to convince you that the Spore Galactic Adventures add-on is worth your time and money. Let's see if this trailer helps!
Spore: Galactic Adventures is introducing a lot of new stuff – planet editor, new segment of space exploration, etc. – but a nifty new thing we haven't seen a lot is the effects tool.
What does it take for your creature to become a space captain in Spore: Galactic Adventures? A dynamic trailer with dramatic voice overs, that's what.
Spore was an interesting experiment, one that didn't totally live up to the absurdly high expectations, but that I still enjoyed.