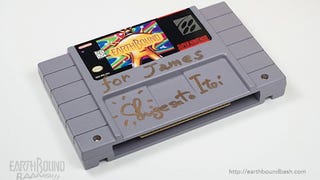 You can own a copy of Earthbound signed by creator Shigesato Itoi—the website Fangamer is putting up an auction for it on December 1. All proceeds go to James Hensiek, a big Earthbound fan who was recently diagnosed with cancer.
Fun fact: Nintendo honcho Satoru Iwata was one of the main programmers on Mother 2 (aka Earthbound) for the SNES. Today on Twitter, Iwata uploaded this photo of a badass Mother 2 sukajan. The jacket, Iwata noted, was given out to the game's staff, and it was the thing he treasures most. Heck, I would, too. It's…
During its heyday, Iron Chef had celebrities like Mother creator Shigesato Itoi on to taste its delicious looking and interesting meals. The show was a smash hit. And now, it has returned to Japanese television after a 13-year hiatus. And nobody's watching.
After a 13-year hiatus, Iron Chef is returning to Japanese television. The show, which originally ran from 1992 to 1999 in Japan, became a cult hit abroad after it was dubbed for Western audiences (see above).

It's not yet known whether host Takeshi Kaga and his bell pepper will be returning for the show.…
Shigesato Itoi, who's perhaps best known in Japan as a copy writer and TV personality, already said that there will be no Mother 4. Making Mother 3 was no easy task. That doesn't mean there still isn't hope - however faint that might be.
Shigeru Miyamoto, the man behind Mario, reflects on the past 25 years of his creation in a new interview with fellow creator Shigesato Itoi, explaining how creating Super Mario Bros. and the Mario games that followed was the "easy" way out.