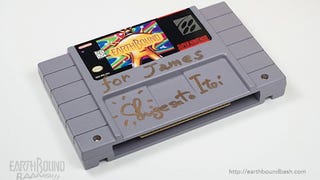 You can own a copy of Earthbound signed by creator Shigesato Itoi—the website Fangamer is putting up an auction for it on December 1. All proceeds go to James Hensiek, a big Earthbound fan who was recently diagnosed with cancer.
Fun fact: Nintendo honcho Satoru Iwata was one of the main programmers on Mother 2 (aka Earthbound) for the SNES. Today on Twitter, Iwata uploaded this photo of a badass Mother 2 sukajan. The jacket, Iwata noted, was given out to the game's staff, and it was the thing he treasures most. Heck, I would, too. It's…
During its heyday, Iron Chef had celebrities like Mother creator Shigesato Itoi on to taste its delicious looking and interesting meals. The show was a smash hit. And now, it has returned to Japanese television after a 13-year hiatus. And nobody's watching.
Shigesato Itoi, who's perhaps best known in Japan as a copy writer and TV personality, already said that there will be no Mother 4. Making Mother 3 was no easy task. That doesn't mean there still isn't hope - however faint that might be.
Shigeru Miyamoto, the man behind Mario, reflects on the past 25 years of his creation in a new interview with fellow creator Shigesato Itoi, explaining how creating Super Mario Bros. and the Mario games that followed was the "easy" way out.