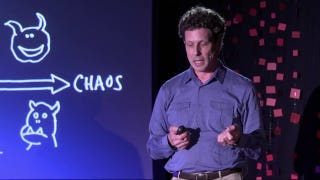 Playing tabletop RPGs like Dungeons and Dragons or Pathfinder thankfully doesn't carry the same stigma it once did. That's great because as this TEDx talk explains, the game can do a lot to help you in real life.
Sitting around a table with good friends is the best way to play tabletop RPGs like Dungeons & Dragons, but that's not always an option. If your friends have moved away, live overseas, or don't want to brave the traffic, there's plenty of ways to make game night happen no matter where your group is located.

There's now a d120 out there, made by the folks over at The Dice Lab, and while it'd be interesting to see what it could be used for during an RPG session, it certainly looks like a fun gimmick.

Last night, while wandering in Fallout 4, I heard something strange in the distance. A man on a megaphone was enthusiastically commentating a race. I'd never heard something like it before, so I had to take a closer look. To my surprise, I didn't find a horse race, I found a robot race. A robot race! People were…
Everybody loves role-playing games (unless you're irrationally worried about Satan.) Escaping into a fantasy world, surrounded by like-minded nerds, is just the best thing ever. Except when it isn't, because someone is deciding to be a total Gelatinous Cube. Here are some of your worst RPG horror stories.
Fighters. Mages. Priests. Rogues. These are the primary four character classes in Dungeons & Dragons, and they have served the role-playing game well for over 30 years. But there are many others in addition to these — some awesome, some weird, and some just ridiculous. Here are 24 real D&D specialty classes that…
Brenda Brathwaite made Wizardry, among other classic role-playing games. Tom Hall made Anachronox. They and their indie team at Loot Drop want to make a new throwback role-playing game, and they've posted one hell of a Kickstarter to convince you to pay them to make the game. And if you give them two million…
Many role-playing games ask us if we want to save the world. Even the parody role-playing game Half Minute Hero, which I love, and which was ported to Xbox Live Arcade asks this question. Help the Time Goddess banish evil? "Yes" or "no"? As if "no" was an option...
In today's mostly complete episode of Speak-Up on Kotaku, commenter Dodgerwd wonders if everyone is having the same difficulty finishing their video games as he is.