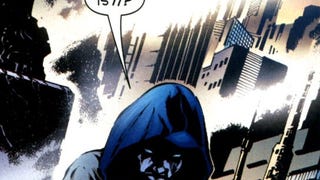 Back in the mid-2000s, Grant Morrison and Frank Miller were putting their respective spins on Batman. Miller, given stewardship of All-Star Batman & Robin, DC's attempt at showing characters in their most iconic light without the bloat of main stream DC continuity, chose to revisit the character he helped reinvent for…
Poor Damian Wayne. He can break all of a grown man's major bones in an eyeblink but he's still just a kid yearning for his dad. Too bad Bruce Wayne came back from the dead with no memory of being a superhero or a father.
Batman's had lots of sidekicks over the years. Nightwing, Batgirl and Red Hood have all had gruff, tension-filled partnerships with the Dark Knight. But only one of them has been Bruce Wayne's biological son. Trained to kill since he could walk, Damian Wayne is the most ferocious Robin ever. Now his mom wants him back.

The new Batman is a cop. The new Robins are pretty much a gang. So, yes, the new Batman is probably going to have to arrest the new Robins. And Batgirl, too.
I don't have any information or context to provide to help you make sense of how this video came to be. The best I can do is this message board thread that has live play-by-play of the action, but it isn't necessarily all that helpful. ("No one in the crowd. Including us, know what the fucks going on. Before you…
Robin plays a big part in the Harley Quinn's Revenge DLC that hits Batman: Arkham City today. Yeah, it's apparently not that great. But the character's presence in the add-on reminds me that people exist who really, really hate the Boy Wonder. I mean, folks who rabidly rail against the very idea of a Robin.
By our count, there are 14 alternate costumes or characters you may play as in Batman: Arkham City, through a variety of promotions, pre-order bonuses, and timed-exclusive downloadable content available now. The "good" news, I suppose, is that all of this stuff will be available at some point—for a price.