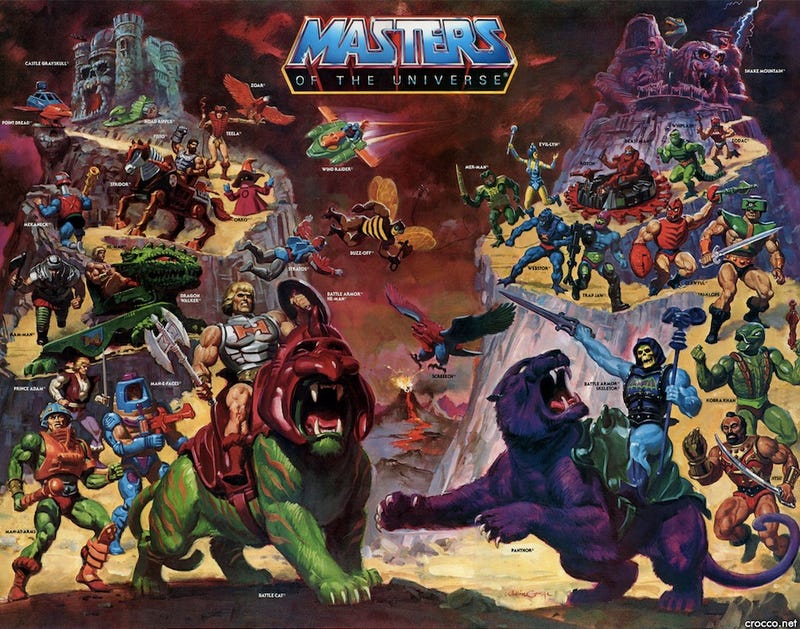 The most powerful man in the universe was also part of the greatest toyline in the universe. MotU's giant, wildly varied assortment of heroes and villains set it apart from its '80s counterparts — admittedly, some more so than others. So here are all 60 original action figures, scientifically ranked by awesomeness.
What is best in life? Seeing a classic sword-and-sorcery hero brought to the big screen, with an iconic bodybuilder in the lead role. But how did Robert E. Howard's Conan the Barbarian become such a classic film? The path to glory was long and twisted. Here's everything you never knew about the making of Conan.
It probably shouldn't shock anyone to realize that any franchise whose main character was named "He-Man" was, in fact, kind of ridiculous. But somehow the Masters of the Universe toys, cartoons and movie managed to exceed all expectation of weirdness. Here are a dozen bizarre He-facts that you've probably forgotten…
Crypt of the Necrodancer promotional art by Jeff Agala. You can support the game and download the high res version at the game's official site. I posted some Masters of the Universe illustrations by Jeff below:
Here's a convincing He-Man in Star Wars: The Old Republic. Below, see another He-Man and a Skeletor:
We can thank Alex Jones (Orion Pax) for this, a set of designs for He-Man LEGO so complete and professional that it's a wonder he didn't just sneak into my dreams and steal them.
I have to admit that—of all the "who'd win" nerd arguments over the strength of pop-cultural metahumans— the Man of Steel vs. The Hero of Eternia is one I never really thought about. Superman and He-Man? Science vs. magic is always a good clash but so much about the characters' respective universes was just so…
Just one week ago we were pretty sure that a He-Man video game was in the works. It turns out that it's more of just a hope and a dream right now. So now's your chance to be influential.