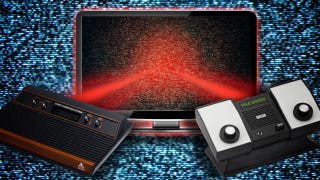 If you've just rediscovered an old console in the back of your closet, or you've gotten into retro gaming and want the genuine experience, you've probably stood in front of your shiny new LCD or plasma TV with a console made in the age of CRTs, wondering what to do. Luckily, it's not too difficult to plug everything…
OK, I get it: My 10-year-old LCD monitors are probably not a good fit for my blistering-fast desktop. So what would you suggest I pick up for both gaming and work? Twin LCDs? A single HD TV? Something I haven't thought of? Quick, to the comment box....
If there's one thing that actually sorta makes sense to buy on Black Friday, it's an HDTV—many are crazy discounted. But picking out an HDTV can be a big ball of suck. That's where this guide comes in.
Last week, I asked you to let us know how many of you owned a high definition television set. Your answers are now in. Let's take a look!
My son has one of those cool remote control R2D2 robots, the one with a little cup holder that is absolutely perfect for holding an ice cold can of beer.... and it sits under a thick layer of dust in the corner of his room, housing his one very cool hat. McWhertor would be proud. Me? I'm just bitter.