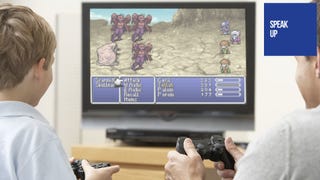 It's a delicate subject but one that will inevitably come up for any parent, and you've got to be prepared. In this age of bright and shiny high definition games, how can we force our children to play through the games we grew up on first? This is commenter Balmung's question in today's Speak Up on Kotaku. Now eat…
Yesterday 2K Games panicked some gamers with news that the turn-based tactics series X-Com will return as a first-person shooter. What other classic video game franchise have had their genres changed, and how did they weather the transformation?
CD Projekt's DRM-free classic computer game download service has secured several titles from French publisher Microids, including Mega Race, one of the premier showcase titles for CD Rom technology.
While I'm a fan of the fresh and innovative, I'm more likely — depending on time and monetary constraints — to run screaming for the safe, the familiar, the ... boring games on my shelf? Well, there's something to be said for the comfort of the familiar, and Tom Cross takes a look at why there's something to…
CD Projekt's classic gaming revival service has opened its doors to the public, as Good Old Games moves into the open beta phase. Now everybody can head over to the website at
http://www.gog.com
and spend their money on DRM-free versions of popular older titles, instead of just those select few privileged enough to…
Gamers of my generation may remember Activision's Alter Ego, released in 1986. It was a text-and-graphics, choice-based somewhat-precusor to later games like The Sims or Second Life. The game fascinated me, even as a 13-year-old, with the idea of living another life - and helping to create such a rich narrative - or…