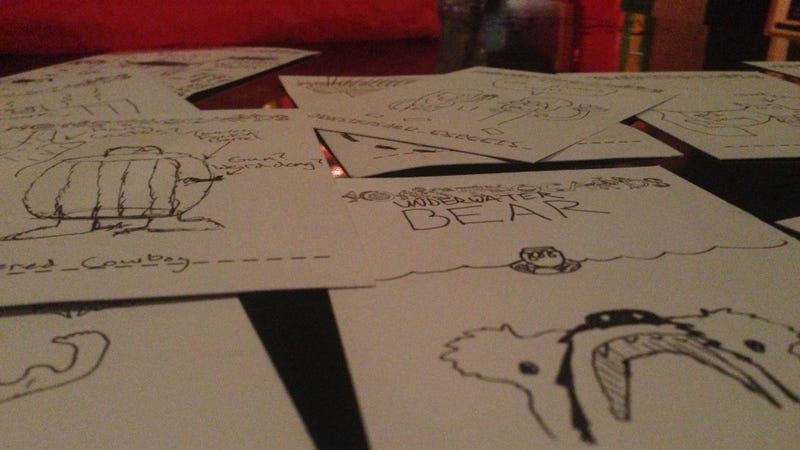 Monstrocards is a card game with almost no rules. Almost. Think Cards Against Humanity, but with your own creations instead of pre-written words. Oh, and it's been in the works for more than ten years.
Last weekend, Max Temkin, co-creator of the popular card game Cards Against Humanity, wrote a blog post about a rape accusation. The post went up somewhat unnoticed, thanks to a combination of EVO, the World Cup, and GaymerX happening all at the same time—but he mentions something that we, as a gaming community,…
Cards Against Humanity is sold out again. This time, they have a good explanation for how it happened. Designer Max Temkin wrote about the process of trying to predict Christmas sales, and why marketing reports aren't very helpful.
Even after issuing an apology, in which he spoke of his "regret", the controversy over Penny Arcade artist Mike Krahulik's comments at this year's PAX continue to have repercussions.
Cards Against Humanity was once a Kickstarter asking for $4000. It's since made over $12 million in revenue. Here's a great writeup on how the game, and its creators, got there.
Just yesterday, the long-out-of-stock card game Cards Against Humanity came became available at Amazon. I had been waiting to order the game ever since I first played it at a party about a month ago, so I jumped on the opportunity.
Cards Against Humanity was a popular late-night diversion at PAX East last weekend, making appearances at gaming tables after midnight and after a few adult beverages. The game, it seems, is indeed as antagonistic as advertised, and can be dangerous to a player's health under the wrong circumstances.