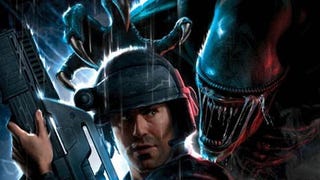 Update: Gearbox president Randy Pitchford tells us that the Sega published project is still on, that the independent developer has been undergoing "some transformative changes" resulting in "some talent changes." His full statement is after the original report. We've heard from multiple sources that Gearbox Software…
A week ago,
we saw a trailer for Brothers In Arms: Hell's Highway
that was, well, a little unsettling. Not the gore itself, we've seen that before, it was just odd seeing it so, well, in a series that's traditionally prided itself on historical accuracy, not bloodthirsty thrills. And we weren't the only ones…
And here I was thinking Brothers In Arms was all about the camaraderie, the historical accuracy. All they focus on here is exploding Germans and excessive gore. Sure, maybe that's realistic, too, in its own way, but all the slo-mo and disintegrating heads and gratuitous dismemberment comes off looking more than .
Brothers in Arms: Hells Highway was originally due in 2006. It'll be out next week, in 2008, so there's been a fairly sizeable delay on Gearbox's end. What caused the holdup? According to Gearbox, it was a combination of the multiplatform development and the Unreal Engine 3.0. They bought the engine off the shelf, and…
Gearbox Software is celebrating the upcoming release of Samba De Amigo and Brothers in Arms Hell's Highway with a Victory Party, being held this evening at the Palladium Ballroom in Dallas, TX. Festivities kick off at 8:30PM, running til whenever the booze runs out. The party features musical guests Candy West and…
The Brother's in Arms: Hell's Highway booth at Penny Arcade Expo this year was turned into a bootcamp barbershop. If you got your head shaved and had "Hell" spraypainted on the back of your skull, Ubisoft would send you a free copy of the game. A free haircut and video game apparently seemed like a sweet deal to a…
Steam sends us word that you can now pre-purchase Ubisoft's Brothers in Arms: Hell's Highway via steam. And, if you purchase the game before it is launched in late September you will get a free copy of Brothers in Arms: Road to Hill 30 totally free. Sounds like a pretty good deal to me. This will also give you a…
Just a heads up this video does have some offensive language in it so viewer discretion is advised. In this latest trailer for Brothers in Arms: Hell's Highway we get an inside look at the story development. I am pretty excited to see that they are putting so much time and effort into building deep characters. It's…
Fightin' words. That's what Call of Duty: World At War senior producer Noah Heller had for Treyarch's World War II competition, Brothers In Arms. Asked about Gearbox Software's take on the genre, the newest iteration of which will be Brothers In Arms: Hell's Highway, Heller said "I watched the trailer and I'm was like…
I've loosely followed the Brothers in Arms franchise through its couple of iterations, but despite the tight command system it's never really struck a chord with me. It just wasn't different enough to separate itself from the pack.