Stunning design aside, Master & Dynamic's MW60s provide a rock solid connection up to 100 feet away, a 16-hour battery, and great sound.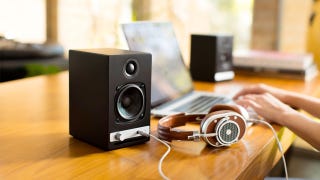 Audioengine products have finished in the top five of our reader votes for best desktop or bookshelf speakers three different times, and their newer HD3s are packing serious sound and style.
2016 was the year of wireless headphones, so if you still don't own any, it's past time to join the future. $45 is the best price we've ever seen on Sony's MDRZX330BTs, so if you like on-ears, it's time to cut the cord
It's 2016, and your headphones don't need wires anymore. Luckily, Amazon's offering up Sony's popular and well-reviewed MDRXB950BT Bluetooth over-ears for $88 today. Not only is that an all-time low, it's actually a whopping $60-$110 off its usual price.
Since the release of Skylanders Cloud Patrol for iOS last year, fans of Activision's toys-meet-games franchise have been clamoring for a more direct way to interact with their precious plastic playmates than entering in a cold, impersonal numeric code. Tomorrow's release of Skylanders Battlegrounds finally gets a…
Building upon the success of last year's Skylanders Cloud Patrol, Activision is preparing to unleash the full force of its toys-meets-video-games franchise on mobile devices, with two new titles due out next month, a mobile-friendly Portal of Power and a rejuvenation of Cloud Patrol courtesy of the Activate community…
Last year Microsoft updated the white and clunky original Xbox 360 with the slim model, a slick black beast of a gaming console. Suddenly peripherals for the old system looked like ass in comparison. Today Microsoft fixes that, introducing the gorgeous new Xbox 360 Wireless Headset with Bluetooth and Xbox 360 Media…
Microsoft UK's Xbox marketing blitz continues apace with two new fronts being opened up in the battle for Xmas console mindshare. The Sun Online (the intertubes version of the popular tabloid) will be hosting an Xbox-themed portal for the rest of the year. "I love Xbox 360" will feature assorted pro-Xbox advertorials,…
We know the deal with Japan and the official Bluetooth PS3 headset, but that's of only trivial interest to most of you. Of a more direct interest should be the US details, which Sony have divulged today. The headset will, aside from launching in a bundle with SOCOM: Confrontation, also be sold individually, and will…