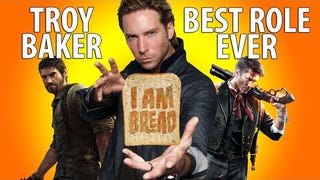 If you played any video games in 2014, there's a good chance you came across Troy Baker. The guy is in everything. Last year, he even played against himself as both Batman and the Joker in a single Lego game. How does someone so multidextrous keep challenging themselves? By playing a piece of white bread, obviously.
What? Michael Cera is evolving into... JESSE EISENBERG!!!

(For more, check out this great Tumblr post. My favorite is Vin Diesel.)
As a longtime public radio listener, I often imagined Corey Flintoff as someone resembling Wilem Dafoe. Turns out he looks a lot more avuncular. Famous game characters likewise bear little resemblance to their voice actors.
The most glorious thing you will ever see in your life is George Takai of Star Trek fame saying "All your base are belong to us" in this talent remix trailer for Command & Conquer: Red Alert 3, and then it gets even better, cowboy style. This is the best game trailer I have ever seen in my entire life. You watch, I…
While gamers might not immediately recognize the name or face of Michael Hollick, his voice might ring a bell. Hollick is the actor who gave voice to Niko Bellic, the main character in Grand Theft Auto IV, which has made over half a billion dollars since its release last month. What kind of pay does a man starring in…