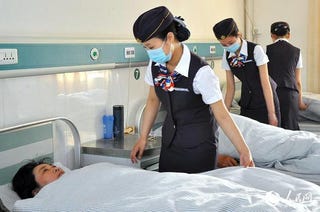 In the city of Huai'an, a group of registered nurses is now working at a local hospital, dressed as flight attendants.
According to CNTV and People's Daily, twelve nurses went through a one-month flight attendant etiquette training course. Instead of typical white outfits, these nurses actually wear flight attendant uniforms, while working at the hospital. (Their uniforms resemble China Eastern Airlines' outfits, and it appears as though they were trained by said airline.)
"The hospital's nursing department has long had thoughts about using flight attendant style service for the patients but it never materialised," head nurse Bu Haijuan told reporters.
Initially, there were concerns that the program would get negative press, but the hospital moved forward with the idea this past March.
Back in 1930, the first female flight attendant was actually a nurse, so in that regards, this does make sense. I guess. Perhaps the idea is that, like the maid dental assistants, the flight attendant uniform is less threatening than a hospital uniform?