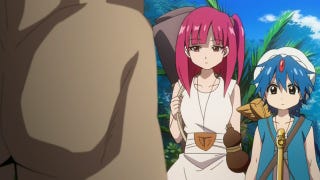 Sometimes anime needs to be censored. Maybe it's cultural reasons. Maybe it society's values. Maybe there just aren't enough fig leaves.
Below, you can see an image from the Magi: The Labyrinth of Magic anime as it aired in Japan when Sinbad first appears before Aladdin. Yes, Sinbad is sporting a strategically placed fig leaf. He looked like that in the original manga, too.
This isn't the censorship I am talking about (it's a gag!). When the anime aired on South Korea's Cartoon Network Korea, Sinbad looked like this:
That's a little excessive, no?
Other bits, like Alibaba's butt in the original Japanese version (above) were covered for the Cartoon Network Korea broadcast.
This isn't new for Magi. The anime was also heavily censored in Taiwan.