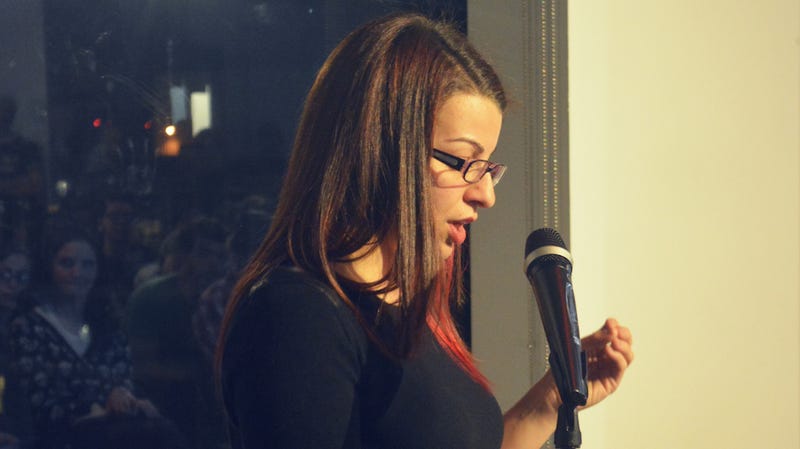 Minutes after I walked through a metal detector—and some time before she was flocked by well-wishers at the best-attended gaming lecture I've ever been to at New York University—I recently listened to the media critic Anita Sarkeesian describe eight things she'd like to see changed in video games.
To be specific, she was describing "eight things developers can do to make games less shitty for women."
The list was a surprise—not really for its content but for its explicit charge for change.
For the last three years, Anita Sarkeesian has been talking about how women are treated in games and has slammed the widespread sexism she sees in the portrayal of female game characters. She's done this through a series of online videos for her non-profit, Feminist Frequency, and in lectures at conferences and even at some game studios. Her supporters cheer the idea that her influence may transform the medium; her critics fear that. They both infer a lot from her analysis of games, but at her NYU talk she left no ambiguity. She spelled out what she wants to see done, what she thinks game developers should think about doing differently.
Her list was brand new. "You get to be my guinea pigs," she said as she took to the podium in front of a couple hundred developers, game design students and gamers, "to see how this all works."
Near the start of her talk, she apologized for being sick and said it was the first time she'd been ill in two years. She fought back a bad cough throughout an hour-long presentation but frequently elicited applause or laughter as she spoke. This was a friendly and game-savvy crowd.
I had attended Sarkeesian's NYU talk because I wanted to hear her outside of the pre-recorded Tropes Vs. Women In Video Games that she's been making for the last couple of years.
I'd met her in person briefly last spring, before she won an Ambassador Award at the Game Developers Conference for her work critiquing video games. We'd e-mailed several times when I was reporting stories.
I'd seen most of her Tropes gaming videos, of course, and, frankly, not had much issue with them. Much of what she showed in them—the propensity for games to depict a disappointingly narrow range of female characters, of often using women in games as props to motivate players, of regularly sexualizing female characters to a comical degree—had rung true to me. Her material had rung true to me even as I'd recognized the complications of calling for diversity in creative work and even as I'd noticed that, sure, if you look closely enough, you can find an admirable female character even in a game that is frequently described as being insulting to women.