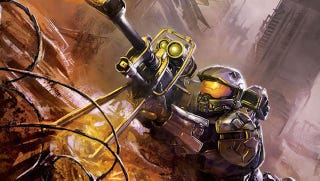 Those who love Halo but only play Halo video games may be oblivious to some of the big developments going on in the series lately. There are big things happening, particularly in the Halo comics, that any Halo fan should know about.
The extended literature around Halo isn't required knowledge in order to follow the games. It tends to simply flesh out known, historical events in the series' lore.
But some of the recent literature overseen by series caretakers 343 Industries–specifically, the Halo: Initiation and Halo: Escalation comic series–contain significant events that could potentially set the table somewhat for upcoming Halo projects. These projects include, naturally, the recently announced/confirmed Halo 5: Guardians game for Xbox One, the TV series executive produced by Steven Spielberg, and the digital feature directed produced by Ridley Scott.