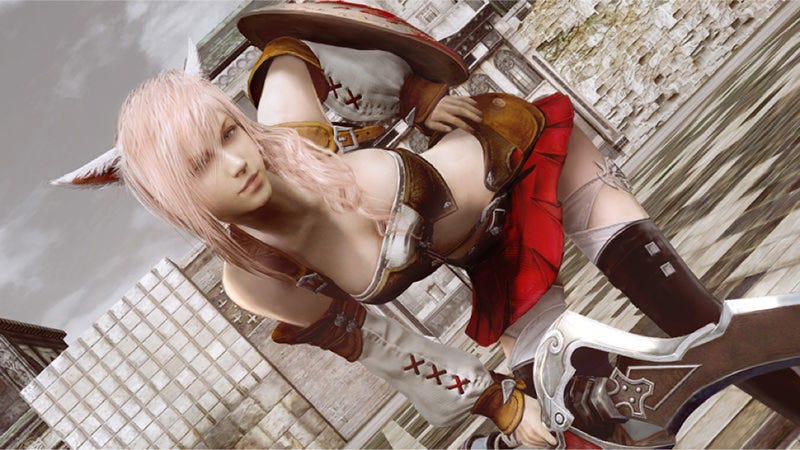 One of the best things about Final Fantasy heroines is that, generally speaking, they've tended to be strong females and haven't really relied on fan service. Until now, that is.
At a recent Q&A session with Lighting Returns: Final Fantasy XIII's developers, the following question was asked: "Is it true that Lightning went from a C cup to a D cup?" This was actually first revealed during an E3 live stream with the game's developers.
(Note: Japanese bra sizes run slightly different from American ones, but are supposedly the same as European measurements.)
Nobuhiro Goto, one of the game's designers, replied, "Toriyama said, 'I want to make them bigger...'" To which Motomu Toriyama, Lightning Returns' director, said with a chuckle, "Don't pass the buck!" (Goto also told Dengeki Online that the decision to change the character's breast size was "an order from Toriyama.")
With a laugh, Goto replied, "Yes, they're bigger."
A follow-up question was asked: Will the character's breasts, um, jiggle?
Toriyama replied that how much her chest moves depends on what she wears. There appear to be numerous outfits for players to dress Lightning in. Japanese game site Dengeki Online even provided recommendations on how players can best see the Lightning Returns jiggle.
Stuff like this is expected in games like Dead or Alive, but it seems out of place for Final Fantasy, no? Online, Final Fantasy fans in Japan seem to think this addition was either "creepy" or heralds "the end of interesting Final Fantasy games." One Japanese net user even wondered, "Is it appropriate to call a game like this Final Fantasy?"