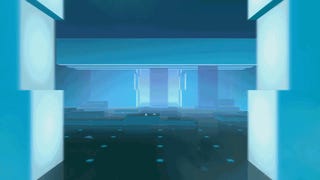 Every time game technology makers talk material physics, they pull out the old "shattering glass" demo. Now there's finally a game about it.
Update 3/7/14: Readers wanted to be reminded when Smash Hit came out, and this is how I remind you. The game is now available for free in iTunes and Google Play, and is fully-optimized for Tegra.
Mobile developer Mediocre loves playing with game physics, as evidenced by the sweet water motion in its Sprinkle series. I loves me some Sprinkle, but the studio's latest game, Smash Hit, is by far the coolest thing it's produced. It's an on-rails first-person shooter in which the player has to shoot heavy metal balls at fragile objects that get in their way.