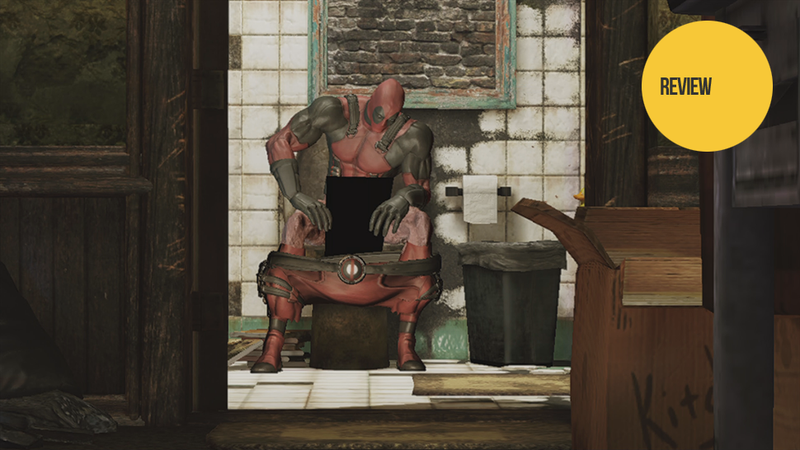 My initial foray into the world of High Moon Studios' Deadpool video game culminated in an intimate moment in the eponymous character's filthy bathroom. Pants around his hideously-scarred ankles, our hero strains. "It's burns!" he cries, and it does — but it also feels kind of good.
Following a phone call from the game's developer establishing the creation of the very action game I was playing (Inception!), the fourth wall-breaking Wade Wilson set about exploring his dilapidated apartment, an amusement park of alternating disgust and brilliance. One minute he's asking his dog how the ball-licking is going, the next he's commenting on the shoddy polygon model design of his furniture. He inflates a blow-up doll, one of the voices in his head (he has two) commenting, "We're not going to put our penis in that, are we?" Then he's having a conversation on the telephone with his own voice actor, the prolific Nolan North.
What seems like a series of cheap gags and gross-out moments is actually a glimpse into the tortured psyche of Marvel's "Merc with a Mouth." There's a hero inside Wade Wilson, floating deep beneath a sea of psychosis, where the call to action can be hard to hear. One could argue that this entire scenario — the High Moon Studios phone call and subsequent "video game development" — is an elaborate mental construct created to lead Deadpool down the path of the righteous.
As he wanders aimlessly about his apartment, there's an insistent knocking at his door. It's the script to the game being delivered — or is it? Is Deadpool playing with his own head and, by extension, mine?
I certainly feel like my head was messed with, but not by a fictional character. Ever since High Moon Studios and Activision announced the Deadpool game, we've been assailed by trailers and marketing materials that focused on the worst the game had to offer. Profiles for the game's guest stars — particular the female ones — were delivered in Wilson's voice, riddled with heavy-handed innuendo. One trailer suggested a game so immature and over-the-top I wrote an article worrying the developers had gotten the character completely wrong.