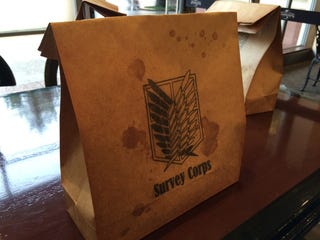 This was today's lunch: the food you see in anime Attack on Titan. But hey, it came in a Survey Corps. brown paper bag.
The bag looked, well, dirty. But it was printed that way so it would look so. It was a nice touch. If only I could've eaten it in a walled city as giant people-eaters encroached.
As previously mentioned, today I checked out the press preview for Universal Studio Japan's new anime and video game-themed attractions, which will only run until this May. This is the food the park served the press.