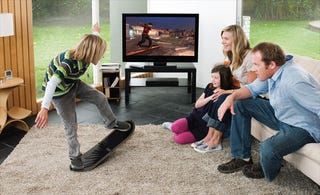 Activision and Robomodo's peripheral-based reboot of the Tony Hawk's Pro Skater franchise had what may be considered a disappointing first month on the market, selling 114,000 units in the U.S. in November, according to the NPD Group.
GameSpot reports that the majority of those sales were to Wii gamers, with 67,000 copies of Tony Hawk Ride and the accompanying skateboard sold to the peripheral comfortable Nintendo fan base. Xbox 360 and PlayStation 3 gamers snapped up the rest, with the 360 version outselling the PS3 version almost two-to-one.
That's behind Activision's other recent controller-dependent, high ticket game, DJ Hero, which debuted with 123,000 units sold in the U.S. in October.