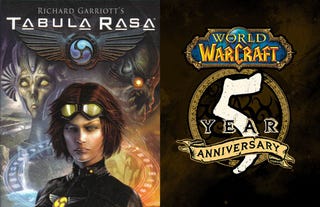 Once World of Warcraft was king, it seemed like a contender to its throne was announced monthly. Here's a quick look at the competitors that were born or died — or both! — during WoW's rise.
This post is part of our series this week on the fifth anniversary of the launch of World of Warcraft.
Yes, I know that many massively multiplayer online games preceded World of Warcraft and persist to this day. Plenty of praise is due to the EverQuests and Ultima Online, to Star Wars Galaxies and City of Heroes, to Eve Online, Saga of Ryzom and others. There were here before Blizzard. But today's post isn't about them.
For reference, Blizzard's MMO launched on November 23, 2004.

MMOs Born Before WoW, Died During WoW

Asheron's Call 2: The first Asheron's Call from developer Turbine is still going and just celebrated its 10th anniversary, but sometimes you can't turn people onto a new thing. The sequel, Asheron's Call 2, ended four years ago, with some press attention from me at this semi-busted link of my old employer's and by reporter Clive Thompson, who attended the end of that world.
Born: 11/02. Died: 12/05