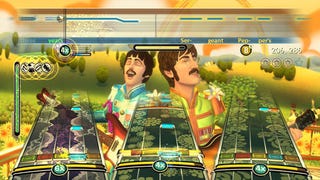 What differentiates The Beatles: Rock Band from Rock Band games that have come before it? Harmonix and MTV Games are releasing more than an artist track pack, with this standalone Rock Band akin more to a playable band biography.
The Beatles: Rock Band also adds to the series' established gameplay by letting up to three vocalists perform at once, assuming lead or harmony vocal duties in songs like "Paperback Writer." Players won't suffer score-wise for flubbing those harmony parts, but serious players will likely welcome the challenge of matching The Beatles harmonizing chops.
Oh, and the publisher added three more songs to the songs confirmed to appear in the game with "Do You Want To Know A Secret", "I Wanna Be Your Man" and "And Your Bird Can Sing." Read on for our latest impressions of the game.
What Is It?
Rock Band formula meets The Beatles. The latter is not simply slapped onto the former, however, as The Beatles music, career and personality is applied to tried and true Rock Band gameplay, adding support for up to three vocalists. In addition to the chance to quick play the band's classic tracks, players can also follow the group's musical career, from its hundreds of appearances at The Cavern Club in Liverpool to its American debut on the Ed Sullivan show to beyond.
What We Saw
Harmonix previewed, among other things that we can't talk about yet, the game's 'Vocal Trainer' mode. The Beatles' regular use of three-part harmonies—which can be incredibly complicated, particularly for those of us rarely have an opportunity to harmonize with two buddies—is going to require some getting used to, musically. Some of us can barely screech our way through a tune in Rock Band, let alone differentiate the lead from the complimentary harmonizing vocal tracks, so this brand new addition is more than welcome. We also got to play a handful of songs previously not shown to the public.
How Far Along Is It?
"Percent Complete: 90%" according to the preview. To our eager eyes and ears, everything else seemed to be in place, from the necessary training modes that will get new players and veteran Rock Band players up to speed, to a robust song listing. If there was anything still left to be buffed to a mirror shine, we sure didn't see it. The game hits retail in less than two months, so a near-final product didn't surprise us.
What Needs Improvement?
Not Enough Sitar! As revealed in the game's newest trailer, "Within You Without You" will give Beatles fans the opportunity to experience the thrill of playing sitar with a plastic guitar. Harmonix reps gave us the impression that this was the only song, so far, to let gamers unless their inner sitar hero. Let's pray that's remedied.