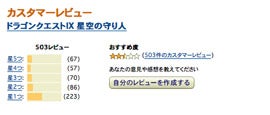 Did you hear? Dragon Quest IX is out in Japan. And if the Amazon Japan reviews are anything to go by, the people have spoken and the people are upset.
These are Amazon reviews, so please, take them just as that: Amazon reviews. At the time of writing, the game has 503 reviews, averaging 2.5 stars. Here is the breakdown:
• 5 stars (67 stars)
• 4 stars (57)
• 3 stars (70)
• 2 stars (86)
• 1 star (223)
The positive reviews gush over the customization options and combat. Negative reviews are largely honing in on "irritating" gal character Sandy, though some are ripping on the game's DS graphics, cut scenes and even costume changing. "It's rubbish," says one reviewer, "Change clothes quest."