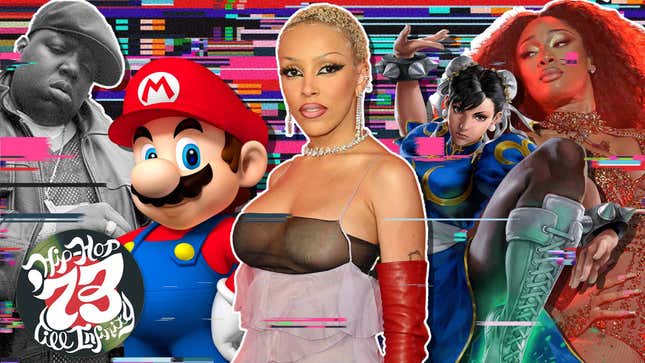 This story is part of our new Hip-Hop: '73 Till Infinity series, a celebration of the genre's 50th anniversary.
Rap culture and video games are intrinsically linked, entwining together for the last several decades. One inspires the other, one features the other, on and on from from Biggie Smalls and his Sega Genesis to Megan Thee Stallion stomping on hoes so hard that Mario tokens fall out.
But what are some of the best video game references in rap? What are the best ways rappers have cleverly thrown a nod to their favorite game or character into a song in such a manner that you can't help but make a face of appreciation when you hear it? Sure, Travis Scott was in Fortnite, but he's not on this list because he doesn't have any good video game-related lyrics. Sorry, Travy.

To get on this list I'm looking for references that feel natural, like these games and consoles are actually a part of the rapper's life. Many of the artists here are also gamers—some of them have streamed themselves playing their favorite games, while others point to getting certain consoles as a sign that they made it. One song on this list even rips the Super Mario Bros. theme for a beat, though you can't find it on Spotify for that reason. There's a wild amount of Mortal Kombat and Street Fighter references in rap, too, but they're not the only games that have made it into your favorite rapper's songs.
Here are the 20 best video game references in rap music.