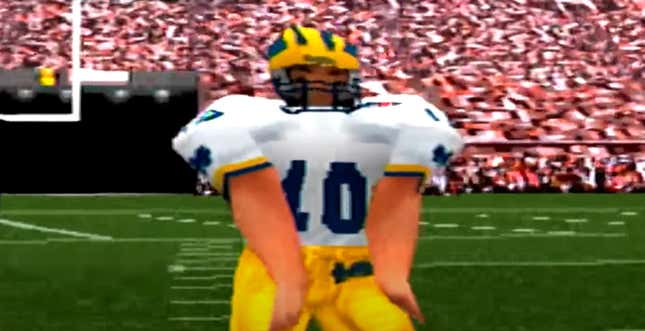 You can hear someone tell you Tom Brady's age (45!) and it doesn't really hit you, because the guy still looks pretty fit and healthy. To fully grasp the length of Brady's tenure on this Earth, then, you need to realise that the man has appeared in a video game for the PlayStation. Like, the original PlayStation.

Brady, born in 1977, was drafted by the New England Patriots in the sixth round of the 2000 NFL draft—as the 199th pick—and spent his first season in the league as a fourth-string QB. He was so far down the NFL pecking order, in fact, that for his first appearance in Madden—Madden 01, which was released on the PS1—he wasn't even named, he was just listed on the Patriots depth chart as "QB #12".
A year later, having moved up to the backup spot, he took over from the injured Drew Bledsoe, led the Patriots to a championship and the rest is history. Note that his ascent to stardom happened so quickly that he didn't even appear in most versions of Madden 02, the year he would go on to win the Super Bowl; in the PC, PS1, PS2 and N64 editions the Patriots only had the three QBs above him in the depth chart from the previous season, meaning only the Xbox and GameCube versions—released months later, after the 2001 season had already begun and Brady was the Patriots' starting QB—had him in the game.
Brady retires as the statistical leader in almost every category that matters for a QB, from passing yards to passing attempts to TD passes, while also leading the league in ball deflation controversies, crypto scam endorsements and weird ways to kiss your kid on the mouth.

To celebrate his career—or, for many more of you, to celebrate his retirement, announced today—I've put together this slideshow showing his video game career, from those early days on the PS1 through to the NFL 2K series, Madden and some other stops in between. It won't be every game from every year, that would be boring—and for recent Madden games incredibly repetitive—but still, it'll be a nice little walk down memory lane. Unless you remember playing any of these first few games, in which case I'm sorry for reminding you how old you are.