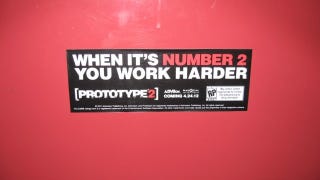 If you visited any of the restrooms at PAX (well, the Men's rooms anyway. I don't know about the ladies' rooms. I could have checked, but… er, anyway). If you visited any of the men's rooms at PAX, you probably saw this Prototype 2 sticker on the inside of the stalls and stuck above the urinals. At first glance, it's good for a chuckle—poop is funny!
But then you think about it. Hey Activision, what exactly are you saying about your game here?
---
You can contact Kirk Hamilton, the author of this post, at kirk@kotaku.com. You can also find him on Twitter, Facebook, and lurking around our #tips page.