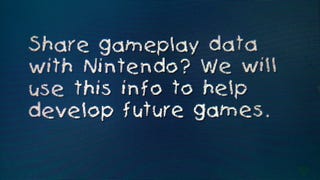 I don't remember any other Nintendo games starting with the above message, but, hey, sure, Nintendo. Why not? I've rated a level or two in Assassin's Creed. I've agreed to let my crash bugs be sent back to Microsoft. I just never thought that you, Nintendo, would need to see my gameplay data to make better games.…
The 3DS XL Yoshi fans have been waiting for. Already announced for Europe, the limited edition Yoshi Edition 3DS XL will be available in North America on March 14 for $199.99, just in time for the release of Yoshi's New Island, sold separately.
Yoshi's New Island surfaces on the 3DS on March 14. The sequel to Super Nintendo classic Yoshi's Island has a lovely Friday release date now. Yoshi and Baby Mario are playing middle men to February 28's Professor Layton and the Azran Legacy and the newly-announced Disney Magical World, releasing on 3DS April 11.
The new game for Nintendo's most nurturing dinosaur was available to play this week at E3 and Kotaku's Jason Schreier did exactly that. In the video above, you'll see Jason try to talk and play at the same time—harder than it looks, especially in a crowded E3 Nintendo booth—while he gives you a quick glimpse at …