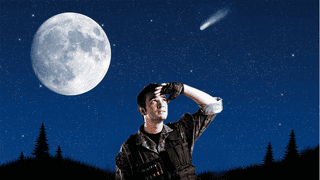 It's 2013, and despite the winter chill, hope blossoms that this year will bring in a fresh and innovative crop of wargames. Like the flowers of the spring, those hopes will probably fade before the stale wind of yet another faux-historical clickfest, Hearts of Iron clone or dumbed-down mobile game.
David Petraeus would not have gone down in history as a great general, even if he had been able to keep his zipper zipped. Certainly not great enough for the retired Army four-star general and former commander of coalition forces in Iraq and Afghanistan to merit appearing in a strategy game.
The only thing that's cheap about war is the gaming. The U.S. military services and their assorted war colleges, the Department of Defense, and various thinktanks do quite a bit of wargaming of potential conflicts such as Iran. Compared to a billion-dollar aircraft carrier, wargaming isn't terribly expensive (all you…
The video game first-person shooter series Medal of Honor has been around so long that it's easy for a gamer to think of the words "Medal of Honor" as just a video game brand, no more tied to a real thing in the non-gaming word as a phrase like "brothers in arms", "company of heroes" or "call of duty".
Amateurs study tactics and professionals study logistics, goes the old saying. Or put another way, what's the biggest difference between the U.S. Army and a ragtag militia in the Congo? Our troops get fed. For all the disparagement of Fobbits and REMFs, when the food and the paychecks disappear, the army of Be All You…
As if the U.S. and China don't have enough problems, now they're eyeing each other like two high school jocks competing to be Big Alpha Male on Campus. Oh, they're not exactly enemies. Actually, they're kind of friendly with each other. One loans the other money, and the other uses that money to buy cigarettes from…
When most of us want to buy a first-person-shooter, we look for a game with the latest graphics, reliable team play, and maybe an interesting plot line if we're lucky. But when the U.S. Army wants an FPS, it likes a few extras, like the ability to call in artillery fire, medevac missions, or authentically depicted…