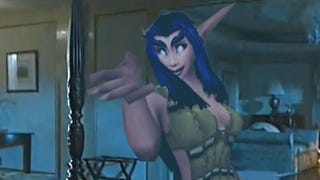 Think Jamie Lee Curtis and you think Hollywood star. Maybe that scene from True Lies. You probably don't think "World of Warcraft apologist".
Since 2005, Video Games Live has been performed in front of more than half a million people around the world. Today, the touring show featuring music from video games performed by orchestras, announced 30 more show dates from Taipei to Tucson.
The Video Games Live concert tour kicks their merchandising up a notch with this new VGL-branded VIVO MP3 player, loaded with unreleased recordings from Kingdom Hearts, Halo, and more.
Finally! Video Games Live is coming to Colorado. In a sad irony, my Rocky editors told me I could cover it for them when it did. Unfortunately, the paper isn't around to see that happen.
If you really cared you're already well-aware, but Blizzard still wanted to drop off a press release letting everyone know that BlizzCon 2008 begins this Friday, and then abruptly ends this Saturday. It's sure to be a truly epic event, with swag, costumes, giveaways, special events hosted by Jay Mohr, and a closing…
Ever since my initial experience with the concert tour during GDC 07, I've been a big fan of the Video Games Live concert series. The combination of classic video game tunes played by a symphony orchestra and classic gaming imagery, both shared with a couple thousand fellow gamers is something that everyone should…
The Video Games Live concert series is adding Crysis to their amazing arsenal of audio artistry, and they'll be debuting music from the title on Crytek's home turf. As with any giant industry event, Tiny Tommy Tallarico's traveling tour event will be hitting the Games Convention in Leipzig, Germany next week, where…
Soon appearing on the souvenir tables at Video Games Live events around the world, EMI has announced the first CD release for the video game music event, Video Games Live: Volume One. No longer will fans be forced to choose between a crappy t-shirt or an overpriced program guide (*eyes program guide on the shelf with…