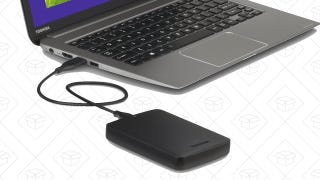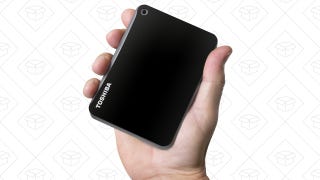 For friends and family members that aren't regularly backing up their files, there's no better gift than an external hard drive, especially when 3TB will only set you back $95, no extra power cord required.

In June, Antiques Roadshow visited Birmingham, Alabama, my home for the last three years. I don't own a Tiffany lamp or a 19th century Chesterfield sofa. I do, though, have a flatscreen television that's ancient by consumer electronics standards. So that's what I brought to be appraised.
This content is brought to you by the Commerce Team, the same group of writers and product enthusiasts that put together your daily deal roundups: Gizmodo Deals, Kotaku Deals, and Lifehacker Deals. We work independently of Gizmodo Editorial Staff to bring you the best deals and tell you about our own favorite…
Toshiba's got a $10,000 TV at the big Consumer Electronics Show that can display glasses-free 3D—a la the Nintendo 3DS—for up to nine people, though four's optimal. Engadget says it'll be out by the end of March.
To find out the best laptops of 2010, we checked in with Mark Spoonauer who, as editor-in-chief of Laptop Magazine and Laptopmag.com, oversaw 140+ notebook and netbook reviews this year. If you're buying, buy one of these.
In 2009, Sony and Toshiba are to begin mass production of the 45nm version of the Cell processor used in the PlayStation 3, reports Gizmodo. The smaller processor uses around 40% less power than the current 65nm chip and generates proportionally less heat. It also costs substantially less to manufacture. It would be…