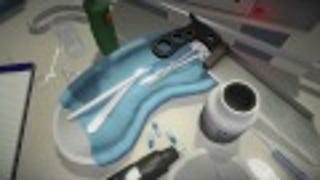 Eyes, teeth, and gallons of blood. Surgeon Simulator: Anniversary Edition is now on Steam, and it's more bonkers than ever. New bits include eye/teeth operations, better graphics, new levels (surgery while running down a hallway!), and stat tracking so you'll never forget how much of a monster you are.
Combine a difficult surgery simulator with a virtual reality headset and a fancy control system and you get...the physical effects of being super drunk, sans the bravado (and the hangover).
In celebration of Surgeon Simulator 2013 and the indie sensation that it has become: the most disgusting cake you have ever wanted to eat. Mmmm disgustlicious. Uncensored image follows.
Surgeon Simulator 2013's road from humble Global Game Jam entry to Internet sensation was one filled with many hilarious hijinks—mostly in the form of let's play videos. Its new, expanded version (trailer above) lands tomorrow on Steam. Here's to more broken bones, bleeding patients and gracefully flying organs!
So, Surgeon Simulator 2013 came out of nowhere (well, this year's Global Game Jam) to be one of the most hilarious, disturbing games that some folks have played this year. And that was before the folks at Bossa Studios added brain surgery to their in-progress game.
If you're like me, you've played enough Trauma Center to know that open heart surgery is super duper easy. I mean, I'm practically a doctor over here! Which is why I'm loving the ultra realistic Global Game Jam game Surgeon-Simulator 2013 by Bossa Studios.