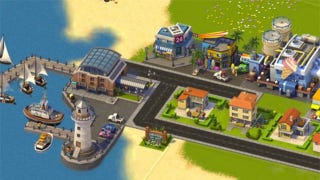 Earlier this month, SimCity Social players were teased with the information that a new land was coming to the game, but we didn't know exactly when that land would launch, or what it would be until now. The game has finally been updated, allowing players to unlock a new island and tons of new quests, all without…
We've already brought you a complete look at the first portion in the Rock Royalty event in SimCity Social, which brings music to your town. Now, there are four quests to complete in this second section of the music event, and you'll need to invest quite a few Simoleons and materials to finish it off. We're here with…
Aside from Motley Crue songs, we don't normally associate doctors with rock and roll. SimCity Social has done just that this week with the launch of the Rock Royalty event. This event is split into three pieces, each of which contains quests to complete over the next two weeks. We're here with a complete guide to…
To help ring in the new year, players in SimCity Social can now complete three different Parts in a large "In with the New" event in their cities. Similar to the Cool Yule Christmas event, this In with the New saga is timed, with quests being split into three different Acts or Parts. We're here with a guide to…
The Winter and Christmas season has come to SimCity Social via the launch of a lengthy "Snow Time" quest series, which will see players being rewarded with a Giant Holiday Tree if they can complete the entire event before it expires. We're here with a complete guide to finishing all three portions of this Snow Time…
Seventeen days ago, I told the world how happy I was to build a virtual Dunkin' Donuts in my virtual city in the Facebook game SimCity Social.
Facebook has been very good to the city-building genre. Every day millions of people wake up, log in and click away the day placing buildings, upgrading facilities and incessantly bugging their friends for help in titles like Zynga's CityVille or Game Insight's My Country. Now the legendary franchise that inspired…
In case there was any doubt in your mind that EA's SimCity Social has it out for Zynga's pretender to the city building social game throne, CityVille, this rousing rendition of "More City, Less 'Ville" should put it to rest.
This week Zynga released its The Sims Social clone The Ville on Facebook. This morning I started up the game with the intention of doing some quick impressions. I logged into Facebook, got to the character creation screen...