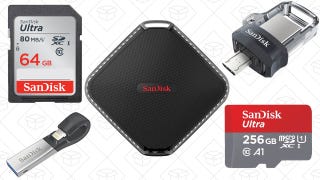 Need a lot of extra storage for your Nintendo Switch or action cam? The advent of 200GB+ cards means that 128GB cards, which until relatively recently sold in the $60-$80 range, are finally inching towards affordability.

One can never have enough flash storage, so stock up on some of SanDisk's most popular gear in today's Amazon Gold Box.

One can never have enough flash storage, especially when you can fit 200GB of files on a card the size of your pinkie nail, all for $61 with promo code BIGTHANKS, today only. If you're lucky enough to have a Nintendo Switch preordered, you definitely want this.

Amazon's Gold Box is currently brimming with awesome deals on SanDisk SSDs, SD Cards, CF cards, flash drives, and more. Pretty much any device you own that accepts external storage should be covered here, so this is a great chance to stock up on bigger, faster cards and drives. We expect a lot of the best deals to…
Microsoft's official, over-priced USB drives for the Xbox 360 are on their way to retailers as you read this. So what do you get for your money?