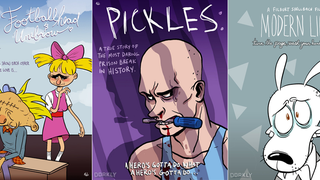 The talented folks at Dorkly played with the idea of turning classic Nicktoons, such as Hey, Arnold! or Rugrats into modern day Hollywood movies, and damn they would look depressing as hell.
It feels a bit weird to call Hey Arnold! or Dexter's Lab classic, but lets face it, as 90s kids slowly grow up, these shows from Cartoon Network and Nickelodeon age as well. Here's Isaiah K. Stephens, who picked a handful of cartoons from the 90s, and remade their characters as realistic-looking adults.
I've played other music creation titles in the past with varying levels of success. The main obstacle is always accessibility. It looks like Rockstar has made Beaterator so accessible that a group of photogenic school children can lay down a track in minutes flat.