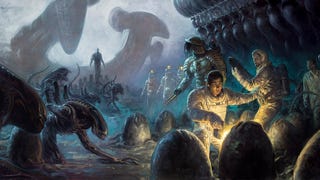 Lately, every movie seems to be a sequel or reboot — but it doesn't stop there. Because the movie industry is increasingly dependent on creating franchises, we're seeing some bastardized forms, that are just designed to keep franchises alive. Here are six newfangled types of movies that we're already tired of.
It's the middle of summer movie season. These days, that means tons of movies, designed to bring in the broadest audience to justify their $100 million-plus budget. And sometimes, you can tell these films, deep down, want to be "B" movies. Here are 10 huge-budget movies that would have been more fun with less money.
Dark Horse is remaking the universe. Aliens, Predators, and Engineers will come together in 2014 when the Aliens, Predators, and Alien Vs. Predator comics get completely rebooted, along with the first Prometheus comic series, and joined together in a single continuity next year. We spoke with all four writers — Chris…
Here's another awesome Fine Art to get your week started on the right foot: a collection of works by David Levy, aka vyle, aka another of my very favourite concept artists in the whole wide world.
Absolutely stunning movie trailers for The Dark Knight Rises and Prometheus exploded all over the web in the last 24 hours. A few weeks ago, it was the promo clips for Looper that got everybody buzzing. Like lots of other folks, I eagerly watched all those teasers over and over again. And I can't stop thinking about…