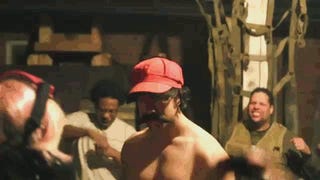 Mario's Fight Club-esque escapades continue in the very much gritty and very much violent Mario Warfare's fifth episode, in which he goes up against a desperate and very pissed off Peach, fleeing her kingdom and hiding from Bowser in the Smash Club.
The acting is a little cheesy, but it's fun to watch what the Mushroom Kingdom would look like ravaged by a modern-day, yet still totally fictional war. We've seen the trailer, but here's the full 11-minute first episode.
The images of the Mushroom Kingdom warfare you see above and below are the work of Hakashidnrc, inspired by the Mario Warfare video released a few months ago.