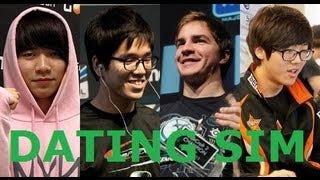 Someone just made a faux dating sim—in line with a game like Katawa Shoujo—using Korea's top StarCraft II players. Thank god the StarCraft esports scene is full of great personalities and players, because a funny dating sim like this would actually work.
Last January saw the release of Katawa Shoujo, a fan-made visual novel based around the idea of dating girls with physical disabilities. When I first heard the concept of the game and then heard it was being made by a group who met on 4chan, I was sure it would be a horribly insensitive, offensive pile of irreverent…
When I first heard that a visual novel centered around dating girls with physical disabilities was being made, my first thought was "only in Japan." Of course, I was completely wrong. While made in the style of a typical Japanese visual novel—and even based on a Japanese sketch—Katawa Shoujo was created by a group of…
Over the past few weeks, I've been playing the fan-made visual novel, Katawa Shoujo. Like the name of the genre implies, there is a heavy emphasis on the story to the point where you're almost reading as much as you would with a print novel. In fact on one path through Katawa Shoujo, there are a grand total of ten…
About three years ago, one of the most notorious online message board communities decided to create an unusual video game. It would be a Japanese-style erotic dating simulator starring girls with disabilities, a topic not unfamiliar to the 4chan group.