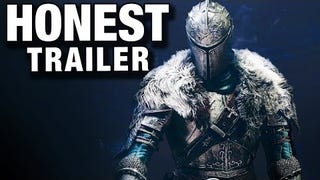 We all know by now that the Souls games can be hard and painful and luckily Smosh Games' latest Honest Trailer is not just a clip about that. It rather makes fun of neglected topics such as the community, the art direction... and the games' connection to Cat Mario.
I've been waiting for Smosh to do an Honest Game Trailer for Call of Duty's Modern Warfare trilogy, and they do not disappoint. "Suit up for the least realistic war franchise since Contra."
While I'd rather watch a documentary that followed the fabled fighting franchise from birth, through its awkward teenage years into adulthood, Smosh's Honest Game Trailer for Mortal Kombat will do in a pinch.
"After the huge letdown of AC III, prepare to redeem the franchise with the Pirates of the Caribbean game that Disney never made." Smoosh Games' latest Honest Game Trailer takes on the Assassin's Creed pirate spin-off that somehow wound up a numbered entry in the series.