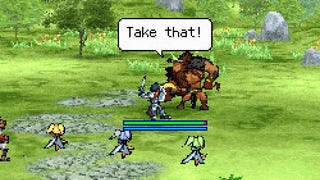 Ancient Greece's immortal amnesiacs want answers, damn it, and they intend to get them in Nintendo's role-playing game Glory of Heracles for the Nintendo DS.
One of Nintendo's more low-key releases of 2010 is Glory of Heracles, released last week in North America for the Nintendo DS. The Greek-themed role-playing game is new user friendlier than most and the first in the series to come stateside.
You may not have it penciled into your calendar, but some of us at Kotaku Tower are looking forward to getting our first taste of the Glory of Heracles series in good ol' English, hitting the Nintendo DS next week.
Nintendo's Glory of Heracles feels like the company's attempt at RPG Training, a My First Role-Playing Game for the crowd fearful of stats-heavy, turn-based conventions. But then the Nintendo DS game quickly becomes that very thing.