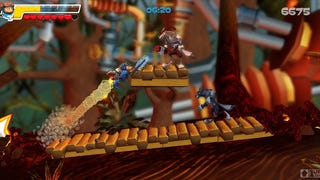 The retro revival streak at Konami has already spawned a handful of new downloadable releases: Gradius, Contra and (soon) Castlevania have all been given the "ReBirth" treatment. Konami will also be revisiting Rocket Knight Adventures, but in a different fashion.
Overlord: Minions for the DS reminds me of a certain game where you have four different-colored playable characters that you guide with a stylus to work together to solve puzzles.
Overlord: Dark Legend had me at sombrero-wearing minions, but I was still worried. I was worried there for a second because it's a Wii game, so surely they had to tone down the humor a little.