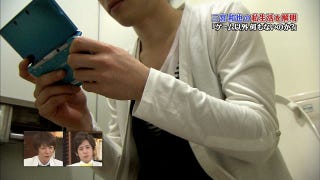 In the West, Kazunari Ninomiya is best known for the Clint Eastwood film Letters from Iwo Jima. In Japan, he's better known as a member of the boy band Arashi.
Europe gets Robin Williams and his daughter. Japan gets boy band Arashi.
When the Nintendo 3DS was first introduced, there was a trailer showing Mario creator Shigeru Miyamoto shaking a dog's paw that popped out of the 3DS, and Nintendo of America honcho Reggie Fils-Aime getting his faced burned off. Easy to understand!
Arashi is arguably the biggest boy band in Japan at the moment. Watch how excited they are as they check out what could be the country's biggest piece of game hardware.