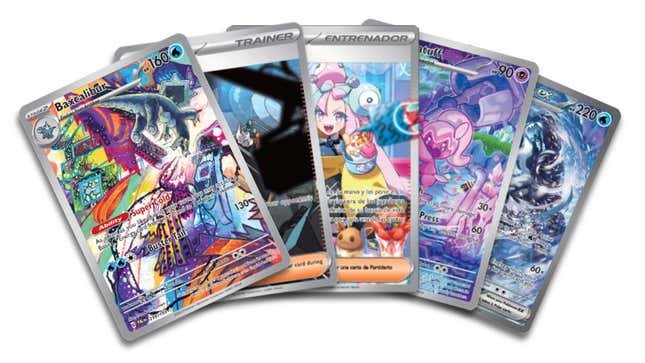 Pokémon Scarlet & Violet's second English-language set, Paldea Evolved, arrives on June 9, featuring some of the most elaborately designed cards we've seen so far. For those extra-keen, May 27 will see the pre-release Build & Battle boxes on sale in your favorite specialist stores, meaning the set is only days away. We've plundered through the cards that have been discovered so far, to show you which are going to be the most chased after, either for value or charm.

With Japan already weeks into selling its third set of Pokémon Scarlet & Violet TCG cards, and the fourth - Pokémon 151 - due in a couple of weeks, it's hard not to feel like we're lagging far behind in the rest of the world. Scarlet & Violet's base set finally came out at the end of March this year, and we're still a couple of weeks off our second set, Paldea Evolved. But thankfully, it's looking likely to be a cracking set, featuring some of the best cards that have appeared in the previous two Japanese collections.
One of those collections was Triplet Beat, which had a big focus on tryptic tales, three cards that told a story between them. We're getting these in Paldea Evolved, meaning all three starter Pokémon will have their incredibly collectible trios of cards. It's also a set that introduces the Scarlet and Violet games' Treasures of Ruin Pokémon, the ancient Legendaries that lurked in mysterious locked caves, only found by those who really dug into the games' side quests.
So, with the cards imminent, and the TCG ready to adapt even further to this new era of ex and terastallized cards, let's take a look at the ones we're most excited to pull. And yes, that Iono card is in there.