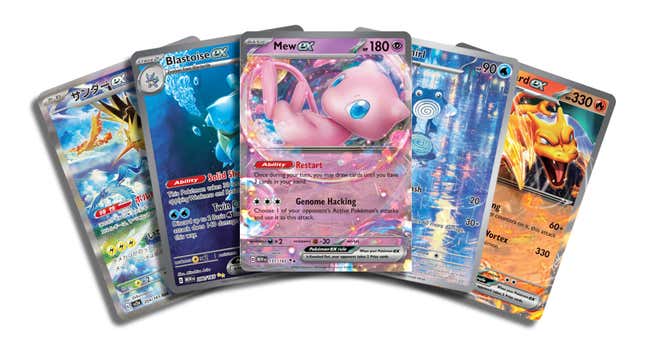 Pokémon 151 is set to be one of the biggest sets the Pokémon Trading Card Game has ever seen. Releasing on September 22, it's a celebration of the original 151 Gen I Kanto pocket monsters, uniting the gang in full for the first time ever. Things are likely going to get loud, with pre-orders already selling out across multiple stores, including the official Pokémon Center. So let's find out what the fuss is about.
A lot of the fuss comes because of the return of Kadabra, after 20 years in Uri Geller's mind-prison. But the majority is that nostalgia factor for the Kanto origins of the franchise, which whips things into a frenzy every time the TCG returns to it.
This is not yet another re-release of Base Set, and in fact features all the Gen I Pokémon that were left out of that 1999 collection.
An unprecedented number of cards have been officially revealed ahead of release, and we've compiled them all here. We'll keep this post up to date as new cards are revealed ahead of the set's launch, but don't forget, the Japanese equivalent set released a while back, giving us a glimpse of the cards yet to be officially revealed in English. We'll drop in the Japanese cards here where TPCi are being coy about the English versions, which right now is the last third of the main set, and almost every ultra rare. We start with a familiar trio...
Pre-order Pokemon Scarlet and Violet 151 Collection Elite Trainer Box: Best Buy | GameStop